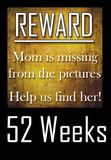 I decided to look at this whole mom thing with a different perspective this time. I did include one picture of myself, but then I added other pictures of things I do or see throughout my daily life.
My boys are taking pictures of me as I am taking a picture of them in the second picture on the top :)
Fischer decided he would pretend that his snowcat was his camera, and Hazy J used his Thomas the Train toy. I love little kids imaginations.