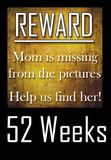 I have lots of Mom pictures this week.
We went with Chris on Tuesday to check grass. It is always fun and interesting to have 4 of us on the 4-wheeler together. :)
Chris took these pictures of me at the river after our cookout. He used the panorama feature on our camera.
And here is me again cutting/serving/blowing out the candles for Hazen's birthday party.